Since a lot of what I do for Christmas decorations is traditional, I'm just going to share some of what's new for this year in this post.
I'm glad you came!
Bayley, our 9 year old cocker spaniel is glad you came too. To him, your arriving meant "getting" to wear the reindeer antlers for a photo opt....
And with all seriousness, I wish you and yours a Merry Christmas. Thank you for coming to my house for the open house!
For more Tour of Homes hosted by BooMama, be sure to visit her site: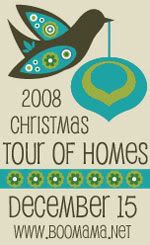 God bless and Take Care!